The Community
The Hearing Voices Movement is:
part of a living movement of solidarity and mutual respect, which comes as a response to the one-sidedness of biological approaches. We are, thus, a political and a multi-cultural movement. The experience of voices is not a personal, but a collective matter: it concerns family, friends, professionals, the whole society. We walk together in crisis, we seek common paths of recovery in an Odyssey where the personal becomes collective and the collective becomes personal.
Thessaloniki Declaration, 2014
The movement is not an institute, a technique, a manual, or a programme. Instead it is a partnership between experts by experience and experts by profession, a network of networks, and a community of equals, founded on shared responsibility and mutual respect. Peer support groups operate in local regions throughout the world as a safe space for people who hear voices to share, explore, understand, and cope with their experience. The national networks and international movement of which these groups are a part fights for social justice for voice-hearers, bringing people together and creating opportunities for them to speak up through annual congress meetings, conferences, and political campaigns.
A Family Tree
The 'family tree' of the Hearing Voices Movement shows some of the key moments and individuals in its growth. It is not possible here to tell the full story of all the courageous people who have been involved.
To download a PDF of the family tree and get a closer look, please click on the image below. (Warning this file may take a while to download – 8 MB.)
Image credit: Hearing Voices Movement Family Tree (1987 – 2016) by Carolyn Gaw, Durham University.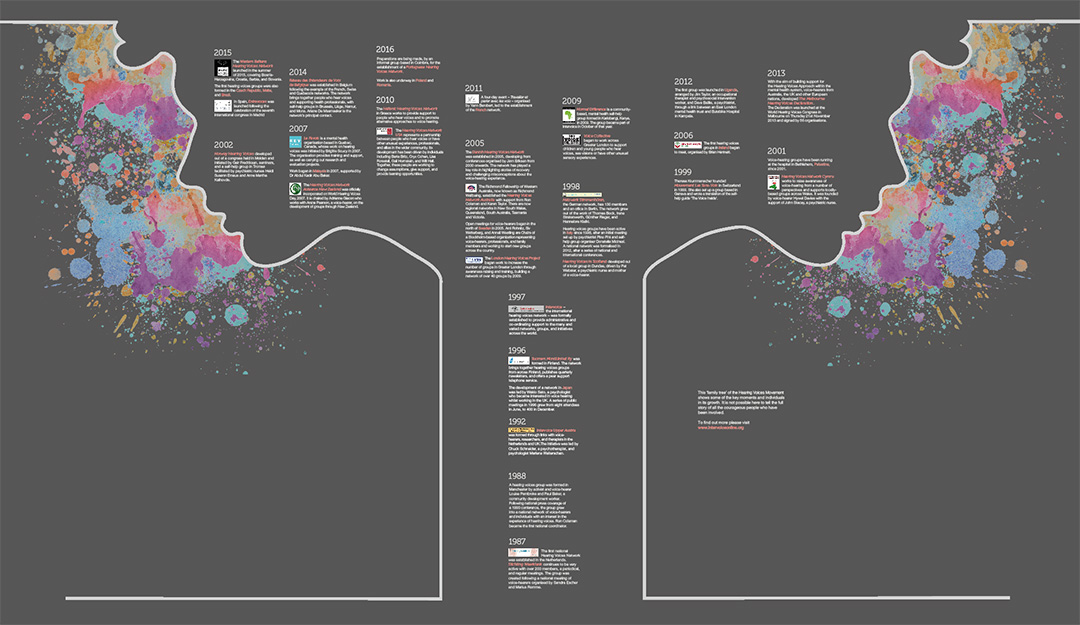 World Hearing Voices Congress
Since 2009, with the support of Intervoice – the international hearing voices network, there has been an annual World Hearing Voices Congress. These congresses bring together people who hear voices, family members, supporters, mental health professionals, researchers, academics and other allies to think, share, learn, and connect with one another. They are hosted by a different national network each year and began in the Netherlands. The 2016 congress was held in Paris, France, and entitled Making History, Owning our Stories.
280 million people hear voices. Everyone has a story …
If over 280 million people hear voices, why don't we talk about it more? These postacards were produced to raise awareness about voice-hearing for World Hearing Voices Day 2014. They feature people who live well with their voices and who come from a wide variety of backgrounds and situations.
You can download the postcards, via the Intervoice website, at this link.
People
Find out more about some of the people whose stories feature in our exhibition and who have made and continue to make the Hearing Voices Movement what it is today.